Ohio seemed far away from most of the strife of the Civil War. The state had not been forthcoming in establishing a militia because it was felt that Ohio just wasn't close to the heart of the War. The young able bodied men had volunteered to fight and had gone to war leaving the old and very young at home. The militia had been established but was not functioning in a very organized fashion. In July of 1863 General John Hunt Morgan was to show Ohio just how unprepared they were.
General Morgan, a Kentuckian, conceived his ill-fated plan in June of 1863. He was commanded by General Braxton Bragg to take his men and raid anywhere in Kentucky that he wanted and to make an attempt to capture Louisville. The scheme was meant to keep General Ambrose Burnside diverted at Cincinnati and to delay his impending invasion of Eastern Tennessee.
General John Hunt Morgan was already, at the age of 38, a hero to the South, known for his courage, resourcefulness and his dignity. To the North who had suffered from his hard hitting cavalry raids he was a freebooter-guerrilla-horse thief, a "blackbeard" with a bridle.
On July 2, 1863, Morgan's men, numbering 2,460, launched their operation near Burkesville, Kentucky. At Brandenburg, on the Ohio River, they commandeered two steamboats and on July 8, crossed the river into Indiana. By this time they were well ahead of General Edward H. Hobson and his pursuing cavalry.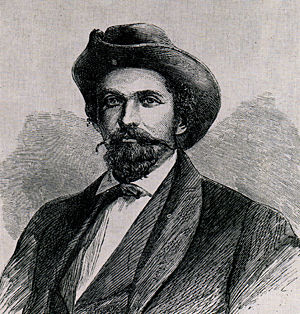 Morgan had been ordered NOT to cross the Ohio. However, He had predetermined to travel into Indiana and Ohio scouting possible places to ford the Ohio. He and his forces struck out northeastward across Indiana. General Burnside felt that they would try to recross the Ohio to the south of Cincinnati. With this in mind he declared martial law in the city and called out the militia in 32 southern Ohio counties. That afternoon Morgan neared Harrison, a small community west of Cincinnati, but after resting his men they disappeared into the night. During the night they skirted the north of Cincinnati, skirmishing with the pickets at Camp Dennison and burning a number of wagons.
They rode on through Batavia to Williamsburg, 28 miles of Cincinnati, by 4 pm that afternoon. They had covered 90 miles in only 35 hours. The men from Camp Dennison pursued as far as Batavia where they halted and felled trees across the road to prevent Morgan's return that way.
The Ohioans prepared the best they could for his advance but they were ill prepared and Morgan and his men found little resistance as they pressed on in search of a place to ford the river. The inexperienced untrained militia were no match for Morgan's men seasoned and hardened by the battles of war.
Colonel Richard Morgan, the General's brother led his troops to the south through Georgetown, to Ripley then back through West Union to Locust Grove where he rejoined the main force. Together they advanced on through Jasper, Piketon, Jackson, Vinton, Cheshire, Pomeroy and Chester, plundering, pillaging and ransacking stores on the way. It must be said that Morgan and his men kept mainly to the businesses and left personal homes, property and farmland alone.
Reaching Buffington Ford, their previously scouted place to ford the river, about 40 miles south of Marietta, late on Saturday the 18th of July he found that the ford was guarded by 300 union men. These men abandoned their earthworks in the night. Morgan still elected to cross the next day and they were quickly ambushed as they began to ford the river. They were overtaken by Hobson's cavalry and were soon pinned down by gunboat fire and overrun by the Seventh Michigan Cavalry. Eventually 700 would be captured, including Colonel Richard Morgan and Colonel Basil W. Duke, the General's brother-in-law. The rest narrowly escaped back into Ohio. They attempted to cross again fifteen miles up river but only 300 reached West Virginia before they were again under gunboat fire. They doubled back inland and for the next week were dogged every step on the way. They traveled northeastward through Zaleski, Nelsonville, New Straitsville, Cumberland, Old Washington, Hendrysburg and Wintersville.
General J.M. Shakelford's cavalry caught up with them at Salineville on Sunday morning July 26. Morgan and some men eluded capture for a short time. It is said that he finally surrendered to a local militia captain in Columbiana County, on the road between Lisbon and West Point, on the condition that he and his men would be paroled. The stump of the tree where Morgan surrendered was housed at the library for many years, finally being removed during renovations in 1993. The stump of the Surrender Tree is currently housed at Gaston Mill in the Pioneer Village at Beaver Creek State Park.
This was not to be the case as Major General George W. Rue, of the 9th Cavalry, arrived a short time later and took them into captivity. A telegraph sent by Major General Rue said: "I captured John Morgan today at two o'clock P.M., taking 336 prisoners, 400 horses, and arms." Morgan and his surviving officers were taken, by order of Major General Henry W. Halleck, to the Ohio Penitentiary at Columbus. The men were treated more like criminals than prisoners of war, even undergoing the indignity of having their heads shaved. Four months after his capture, on November 27, 1863, Morgan and six companions escaped through a tunnel they had dug through a 4ft thick stone wall and 20 feet of dirt. They scaled the prison outer walls and made a clean escape into the night.
Morgan arrived safely in the South only to be killed less than a year later, on September 4, 1864 at Greenville, Tennessee.
The Impact on Ohio
More than 200 northern lives were lost in the two week period of Morgan's Raid of Ohio with at least 350 casualties.
4,375 people in twenty-nine counties filed claims for damages and were awarded $428,168. The Union forces were also charged with damages totaling $141,855, the militia being held accountable for $6,202. Upwards of 2,5000 horses were commandeered and collected by Morgan. There were 49,357 militia men called to duty costing the state $450,000. The cost to the state was more than $100,000.
The biggest impact on Ohio at the time was the realization that they were truly unprepared for the war to be in their own "backyard". They had felt secure by the distance from the south and had not put much effort into preparations for defense. The fact that Morgan was able to almost traverse the whole state, from Harrison in the west to West Point in the east (only about 10 miles from Virginia (WV) and Pennsylvania, with little or no resistance is testimony to this fact.
In West Point, Ohio, there stands a stone monument to the events of July 1863. It was erected in 1909 by Will L. Thompson of East Liverpool. It states:
"This stone marks the spot where the Confederate raider General John H. Morgan surrendered his command to Major General George W. Rue, July 26, 1863, and this is the farthest point north ever reached by any body of Confederate troops during the Civil War."
The events in Ohio day-by-day.
The Events of Morgan's Raid through Ohio July 12, 1863- July 26, 1863
| | | |
| --- | --- | --- |
| Date: | Events | Military Involved |
Sunday July 12, 1863


 
Anticipating Morgan's attack on Cincinnati General Ambrose E. Burnside declares martial law in the city and Governor Tod calls out the militia.
 
Monday July 13, 1863

 
Morgan is sighted near Harrison in Hamilton County and passes through Glendale north of Cincinnati in the night.
 
Tuesday July 14, 1863


 
At dawn he rests the horses in sight of Camp Dennison, he skirmishes there and was in Williamsburg by 4pm that afternoon.
Camp Dennison---Ohio Militia


 
Wednesday July 15, 1863
 
After dividing for some pillaging the forces converge at Locust Grove.
 
Thursday July 16, 1863
 
Morgan reaches the Scioto River and ransacks Jasper and Piketon.
 
Friday July 17, 1863

 
Morgan and his raiders enter Jackson after riding 45 miles during the night. He clashes several times with Ohio forces.
Berlin---Ohio Militia
Hamden---Ohio Militia
Centerville---9th Michigan Cavalry
Saturday July 18, 1863

 
At 1pm he arrives at Chester on the Ohio River near Pomeroy and runs into a skirmish there.
Pomeroy---23rd Ohio Volunteer Infantry
Sunday July 19, 1863






 
Whilst attempting to cross the Ohio at Bluffington Island he is ambushed by the combined Judah-Hobson forces in the rear and 2 gunboats to the front.



 
Buffington Island---14th Illinois Cavalry, Henshaw's (Illinois) Independent Light Infantry, 5th Indiana Cavalry, Kentucky 1st, 3rd,8th,11th & 12th Cavalries, Ohio 2nd & 7th Cavalries, 45th Ohio Volunteer Infantry, 2nd Mounted Tennessee (Federal) Infantry, Ohio Militia & 2 Federal Gunboats.
Monday July 20, 1863


 
Skirmishes as he tries to flee and find another crossing of the river.

 
Hockingport---23rd Ohio Volunteer Infantry
Coal Hill---45th Ohio Volunteer Infantry
Cheshire---65th Indiana Infantry
Tuesday July 21, 1863
 
Morgan and his men ride all day and are becoming extremely weary.
 
Wednesday July 22, 1863


 
Their horses are falling in exhaustion and the men are falling from their horses asleep. The Infantry is waiting at Eaglesport.
Eaglesport--- 86th Ohio Volunteer Infantry

 
Thursday July 23, 1863
 
They crossed the Muskingham River in darkness.
Rockville--- Ohio Militia
 
Friday July 24, 1863






 
Morgan and his raiders reach Campbell Station east of Cambridge on the National Rd. and run into skirmishes throughout the day. Morgan doubles-back toward Antrim, rests a couple of hours before heading east toward the river where he has to fight again
Old Washington---Ohio Militia
Hendrysburg---Ohio Militia
New Athens---Ohio Militia




 
Saturday July 25, 1863

 
Clashes in Wintersville with the military, the citizens in New Springfield and spend the night in Bergholz.
Wintersville---44th Pennsylvania Militia
New Springfield---Citizens
 
Sunday July 26, 1863
Routed by his pursuers they flee north to Salineville. By 8 am they are overtaken with 30 killed, 50 wounded and 200 taken prisoner. Morgan escapes but surrenders 6 hours later in a field near West Point, Columbiana County.
Salineville---9th Michigan Cavalry
West Point--- 15th Indiana Independent Battery of Light Artillery, Kentucky 1st, 9th, 11th & 12th Cavalries, 8th Michigan Cavalry.
Morgan surrenders after 24 days in the saddle, riding and fighting through Indiana and Ohio.
Note: This was not the first time that Confederate soldiers had been on Ohio Soil. Almost a year earlier on September 3rd & 4th 1862 Brigadier General Gallatin Jenkins invaded Ohio as part of Kirby Smith's move on Cincinnati.. General Jenkins attacked 2 Union garrisons in Western Virginia (now WV) and crossed the Ohio River with 350 Cavalry at Bluffington Island. He moved south to Racine, possibly along what is now State Route 124, crossing back to Virginia (WV) at Wolf's Creek below Racine.
Sources:
Museum Echoes, September, 1961
Ohio Book of the Civil War, 1961
Howe's Historical Collections of Ohio